Founder and President
Native of Lamabye, Senegal; AP Chemistry teacher at Mamaroneck High School in New York.
Amary Seck was born and raised in the village of Lambaye, Senegal. Throughout his childhood, he remembers having to go to school without breakfast most days and how hard it was for children to get good grades because they had no place to work or study. He left his home at age fourteen to go to high school in a city where he knew almost no one.
After High School, he attended University in Dakar (the capital of Senegal), a major accomplishment in itself and graduated with a degree in Statistics. However, what he wanted most was to come to America.
He obtained a visa to study in America and got a masters degree in Chemistry from NYU. He also obtained a Masters in Teaching. He began teaching at a school in New York City and then in 2001 obtained a job teaching AP and Regents Chemistry.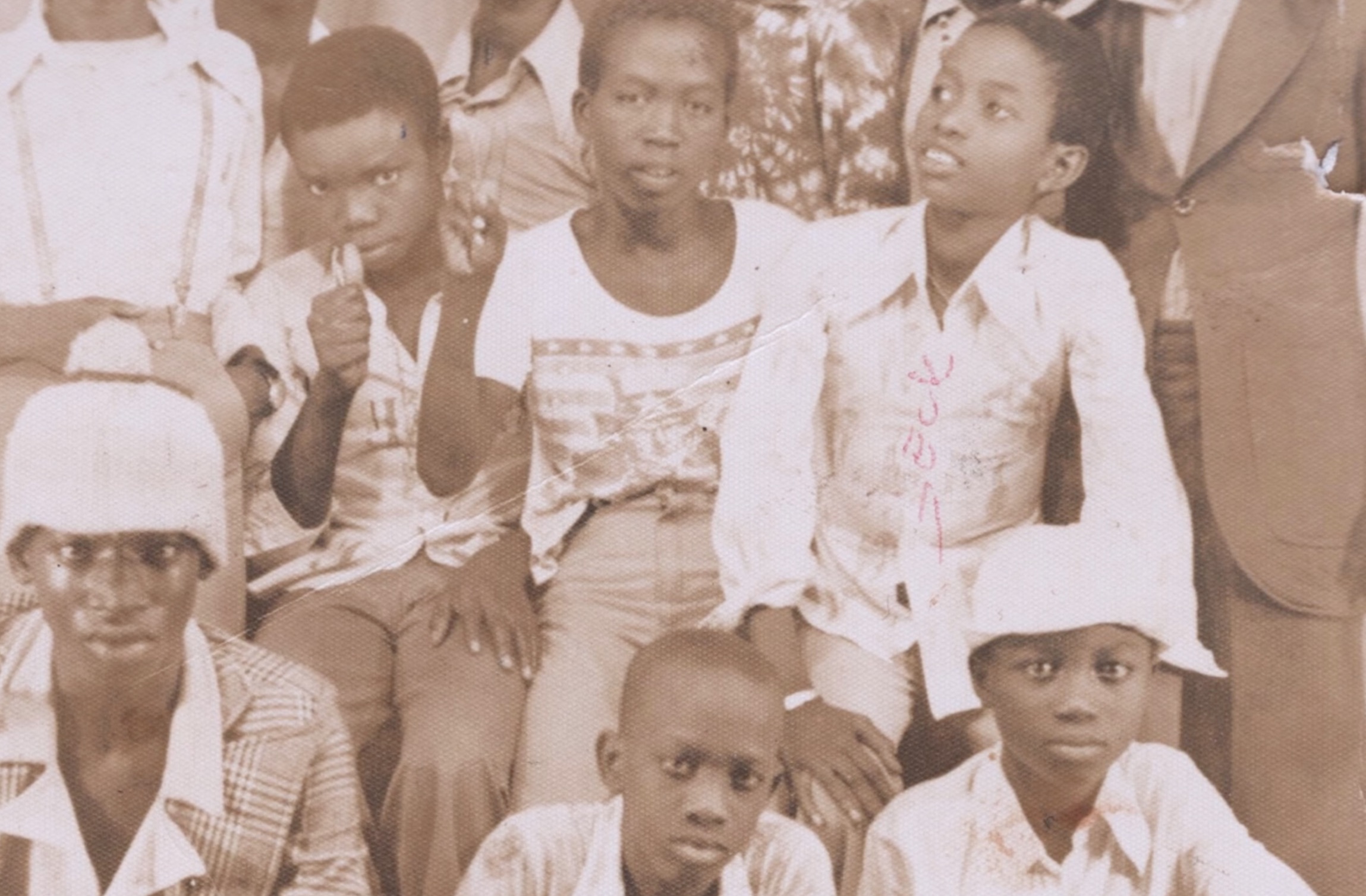 Amary at age 12, top row, far right
He always would tell his students about living in Senegal and through him, they would learn about Senegalese food, culture and history (in-between learning about Carbon and Oxygen!). His incredible life story from Senegalese village boy to NYU educated Chemist and his relentless passion for giving back has inspired a group of students in 2009 to form a small high school club called Students for Senegal.
Leadership
We have an extremely dedicated team of students working to build the Lambaye Learning Center and support their peers in Senegal. Over 600 high school students have been members of Students for Senegal and each year a group of between 15 and 20 juniors and seniors are selected to the executive board to lead the organizations activities. They are constantly supported by a dedicated team of parents, educators, former MHS students and community members comprising an advisory board to ensure continuity and provide guidance.
The Founders
It take true inspiration and motivation to build something from nothing.
It started as a simple idea. Just a few kids in their 10th grade chemistry teacher's classroom meeting once a week (always on Thursdays) at lunch to foster cross cultural exchange and plan events to raise money to promote education in Senegal. Since then, this school club has grown into an international non-profit organization with over 600 members. Through it all, Students for Senegal has remained true to its founding by being proudly, student led.
Below, you can read a little bit about our student founders and find out where they are now, what Students for Senegal has meant for them and where they hope to go next in their lives.
Amanda Giddon
Hello! My name is Amanda Giddon and I recently graduated from Duke University with a degree in Environmental Sciences and Policy and Visual Media Studies. I co-founded Students for Senegal with my best friends, and it has since impacted my life, in addition to the lives of Senegalese students, in immeasurable ways. It was incredibly rewarding to be part of the inaugural trip to Senegal in 2011, and I continue to keep tabs on the club's growth and successes.
In my academic career and personal life I have fostered a passion for sustainable living and marketing. Exploring Durham's farm-to-table restaurants, doodling in margins, and finding new hiking trails consume my free time. I look forward to moving back to New York to pursue my professional goals, and reconnect with the Students for Senegal family. If you haven't yet gotten involved – you must! 6 years later and my involvement with S4S is one of my proudest accomplishments to date.
Hello! My name is Alison Frankel and I recently graduated from Tulane University with a Bachelor of Science in neuroscience. Co-founding Students for Senegal was one my greatest accomplishments and remains one of my most rewarding. Getting the organization off the ground in 2009 was an exciting time. None of us could have envisioned the support and enthusiasm that would build so steadily. Working closely with Mr. Seck has been one the greatest gifts, and visiting Lambaye to see first hand the huge impact our efforts can make is still one of the most profound experiences in my life. The ongoing success of Students for Senegal has since been incredible to witness.
I am now happily living and working in New Orleans, pursuing my interests in nutritional medicine and health and wellness. I spend most of my free time eating my way through New Orleans with the people closest to me and have developed a love of exploring new places, from city streets to national parks. Students for Senegal taught me to ask questions about the world and has inspired me to continue to make travel a part of my life. Please join us, if you haven't already, in our mission to reach the lives of others.
Hi, my name is Jared Lowenthal and I recently graduated from Bucknell University with a degree in Markets, Innovation Design. When I was in 10th grade I had Amary Seck as a chemistry professor. Although I was not the greatest chemistry student, I was able to develop a friendship with Mr. Seck and learn about his Senegalese roots and journey to America. His story inspired several classmates and me and motivated us to establish Students for Senegal. Students for Senegal was one of my most memorable and valuable experiences in high school and has had a profound influence on my life. Through organizing and marketing events such as the Students for Senegal barbecues and Senegal Gala, I discovered my passion for marketing that influenced my future academic and career paths. Furthermore, my trip to Senegal in 2011 exposed me to the benefits of travel and adventure and since then I've explored Australia, Asia and Europe. I highly encourage you to get involved with Students for Senegal and see how high school students are able to make an impact in this world.
Hi there, I'm Grace Trueman! I am a Super Senior Feb (meaning I have one semester left) at Middlebury College, studying history and international relations. When not reading about migration patterns of fishmongers, I am out exploring the wonderfully bucolic state of Vermont. While in college, I have gotten to travel beyond Vermont, from Argentina to Vietnam. Connecting with people, experiencing new landscapes, and learning from cultures different from mine are among my greatest passions. I have my involvement with Students for Senegal, our trip to Lambaye, and Amary Seck to thank for encouraging these passions.
The accomplishments of S4S are awe-inspiring. It has been an honor to watch the club grow to an organization with goals and actions that are socially conscious and self-aware. Every year I feel more proud to call myself part of the S4S family!